The man who 'airlifted' healthcare industry
HT Correspondent, Hindustan Times May 11, 2013
First Published: 22:43 IST(11/5/2013) | Last Updated: 09:33 IST(12/5/2013)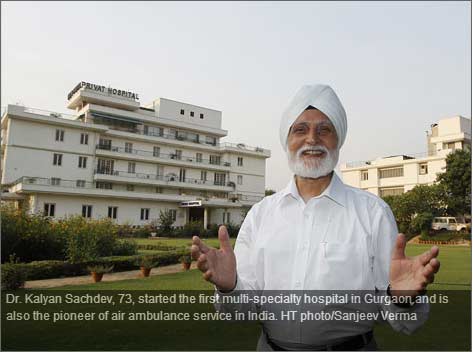 Dr Kalyan Sachdev, 73, has many firsts associated with his name. Credited with having started the first multi-specialty hospital in Gurgaon, he is also the pioneer of air ambulance service in the country.
With medial degrees from world-renowned universities under his belt, Dr Sachdev's success story is synonymous with Gurgaon's ascent to the league of premier healthcare hubs of the world.
Born in Gujranwala of undivided India, Dr Sachdev pursued his education from the University of Vienna in Austria. He returned to India in 1971 to start a nursing home in New Delhi. But destiny had bigger plans for him.
[CLICK HERE TO VISIT THE HINDUSTAN TIMES ARTICLE]
Germany confers Order of Merit on Dr. Kalyan Sachdev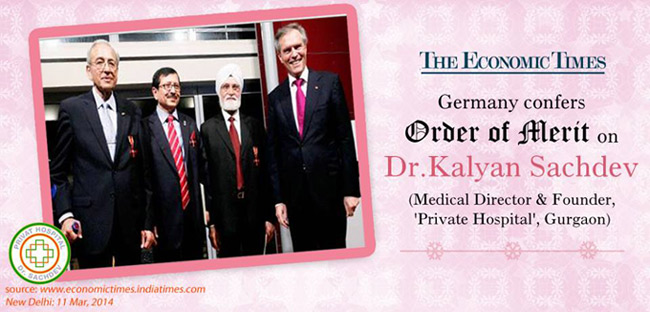 NEW DELHI: Germany today conferred its Cross of the Order of Merit on three Indians in recognition of their contribution to Indo-German relations.
German ambassador to India, Michael Steiner, conferred the prestigious 'Bundesverdienstkreuz' on Anand Singh Bawa, Kalyan Sachdev and Prof. Syed Hasnain.
"This evening it is a sort of a diplomatic triple. Never before have three eminent Indians received the Order of Merit of the Federal Republic of Germany in a row," Steiner said.
Through the award, Germany acknowledges the personal commitment of the recipients and their outstanding contributions to Indo-German relations.
Bawa, the secretary of the Federation of Indo-German Societies in India (FIGS), has been a driving force behind numerous FIGS projects, such as translation of German books for the Indian market.
"Until this very day, he is the heart and soul of FIGS in India, promoting tirelessly the Indo-German ties," Steiner said.
Sachdev is the medical director and founder of a private hospital in Gurgaon who has been a liaison doctor for the German Embassy since 1975. His hospital also becomes a temporary home for German patients and also gives practical training to young doctors from Germany.