Hemodialysis is a procedure that cleans and filters the blood of individuals whose kidneys have failed. The Dialysis Center at PRIVAT provides a comfortable, clean and safe environment for patients and their families. The Dialysis Center uses certified nephrologists (kidney specialists) to supervise dialysis procedures.
The services offered are
Chronic hemodialysis
Bedside acute dialysis with reverse osmosis water treatment system
Ultrafiltration
Continuous renal replacement therapy for critically ill patients
AV fistula (shunt) & management
Facilities
Five dialysis stations each equipped with:
1. Electronic adjustable bed
2. Private multilingual cable television
3. Digital nurse call & Medinyx Medical Arm


One isolation machine
Reverse osmosis water treatment system dedicated to the Dialysis Unit: meets the international standards of the Association of Advancement of Medical Instrumentation (AAMI)
International infection control and sterilization procedures
24-hour emergency power generator to insure uninterrupted therapy
Specially trained dialysis registered nurses supervised by board certified nephrologists.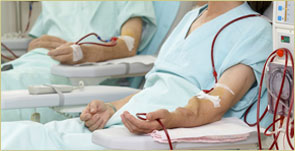 MAKE AN APPOINTMENT